As Americans look back on the past year, the life of evangelist Billy Graham (1918-2018) will be recalled for his impact on millions of lives worldwide. For Graham, his hero was a young man who came to one of his Los Angeles meetings in 1949. At the time, the man was an abusive alcoholic. Yet when Louis Zamperini accepted Christ, his life radically changed.
"As soon as he got up off his knees that night, his PTSD was gone immediately," says his son Luke Zamperini in a new interview. "He was done getting drugs and done fighting. It was, I believe, the capstone miracle of a series of miracles." Louis Zamperini spent the rest of his life inspiring students and giving back to society.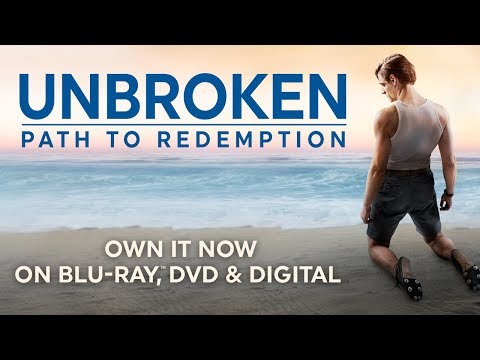 https://youtu.be/7CI9-LYwUZ0
In 1952, Louis Zamperini (pronounced "Louie") started Victory Boys Camp in California to serve children who had a juvenile criminal record. His camp was similar to an Outward Bound wilderness program, as fishing, camping, rappelling over cliffs and skiing mixed with character training. He spoke frequently at evangelism rallies with Billy Graham, portrayed in the film by his grandson Will Graham.
War took its toll. For the rest of his life, the man who set track records would never break a four-minute mile. Yet his story and ministry remain a force for good today, as his son Luke Zamperini has picked up the baton. He shares what his dad suffered at a POW camp in Japan, why this film speaks to deep human struggles and how he continues his father's work.
Heroism and Desperation
What did your father face at the hands of his captors during World War II?
Luke Zamperini: He was targeted in the prison camps. They wanted him to do propaganda broadcasts, because they knew he was a famous American athlete. To try to break him, they assaulted his dignity and humiliated him. They tried to make my father feel like less than a man.
When my dad came back home, he was no longer a world-class athlete. Spiraling out of control, he felt the only way he could get any relief was to go find Japanese war criminal 'the Bird' and do him in. Thankfully, that didn't happen. He would've been in prison for life or put to death, and I would have never been born. Really it was the lowest point in his life, his darkest days.
"To try to break him, they assaulted his dignity and humiliated him. They tried to make my father feel like less than a man."
It took coming to faith in God for that to be finally resolved. That's when he realized that God had gotten him through everything, saving his life multiple times. He dedicated the rest of his life to sharing his faith with other people who needed to hear it.
Finding Strength to Overcome
Unbroken: Path to Redemption reveals his post-war story, along with flashbacks to WWII heroics. Why do you think people will connect with it?
Zamperini: This film explores the culmination of my dad's story, his struggle with post-traumatic stress disorder and the subsequent alcoholism that went along with it. The climax is him coming to faith at the Billy Graham tent meeting in 1949.
God got him through his ordeal at sea and in the prison camps, and he caused this miracle transformation to happen. Now, does that happen to everyone who comes to faith in Jesus Christ? Sometimes there is a big struggle afterwards as well. But it happened to him.
He forgave his captors, including 'the Bird' [Mutsuhiro Watanabe] who had tortured him. Going home from the tent meeting, it was the first night in several years he didn't have that nightmare with the Bird. He never had it again the rest of his life. God demonstrated the power he can have in a man's life, for all to see.
Impacting People Nationwide
In what ways did your father combine sports and faith to help those in need?
Zamperini: Faith plays a part in all aspects of our society, in one way or another. Sports is not immune. My dad loved to be able to talk to other athletes about his faith. That was the focus of his life from when he got off his knees to the end.
That's why, in 1952, he started Victory Boys Camp, dedicated to helping juvenile delinquents — kids who were in real trouble. He spent his life in service to these young men and women, trying to help straighten their lives out.
This part of his legacy is still ongoing. Once he passed away, my wife Lisa and I and the family decided to carry it on as The Louis Zamperini Foundation. We go to youth correctional facilities, schools, churches, universities — anywhere that we can share my father's story. In the process, we share the gospel because coming to faith is the climax of it.
We found a remarkable teacher in central Texas who has been teaching the book Unbroken to her classes for five years. Her methodology is totally immersive, getting all the students involved in the story. It has had a profound effect on her community. We're partnering with her to get this curriculum out to as many schools as we can.
Face-to-Face with Real-Life Superhero
Could you share of any final memories with your dad before he passed away?
Zamperini: The last moments I shared with him, my father had been intubated on a breathing apparatus for 40 days. They finally weaned him off of it. The doctor said, He's not going to make it to the end of the day. He couldn't talk, but he could understand me.
I had been talking with him in a one-sided conversation for weeks already. He would say yes or no with his eyes or by nodding. I said, "Dad, you're not going to make it. You're going to go home to the Lord today. But your work here is not done — your story is going to affect people for generations to come."
"You're going to go home to the Lord today. But your work here is not done. Your story is going to affect people for generations to come."
And it is. Four years after the first film, Unbroken: Path to Redemption completes the story.
Hollywood rarely releases this type of film anymore. What is your hope for this movie?
Zamperini: I was joking with Matt Baer the other day, who is producer of both Unbroken films. I said, "Matt, what a great job you've done — you've been able to make two movies about a superhero without the use of tights or capes!" Marvel can have their imaginary superheroes and we have ours in Louis Zamperini. There's nothing like a real-life drama.
Help us champion truth, freedom, limited government and human dignity. Support The Stream »
We are hoping this movie gets the film industry interested in doing more stories that explore real-life struggles and heroes. This film uplifts American ideals of faith and family that we seem to have lost in our pursuit of 'pure entertainment.'
Unbroken: Path to Redemption is more than entertainment. On the film website, we have resources for those who are struggling in their marriages or struggling with PTSD or have an issue with forgiving people. This movie actually helps people.
Rated PG-13 for brief language and some disturbing images, Unbroken: Path to Redemption released this week on digital platforms and home media. Watch the video below for more insights from Luke Zamperini, and explore The Stream's films coverage.